Tickford Karate Club
Tickford Street
Newport Pagnell
Bucks
MK17 9BG
Tel: 01234 240174
Visit our group on Facebook; Newport Pagnell Karate
Visit our group on Facebook: Denton Karate Club
New Beginners Club Now opened at Denton Village Hall, Vicarage Lane, Denton, Northants. Details Below
Tickford Karate Club was formed in March 2009 by three Dan Grade Instructors. Tickford is affiliated to the Traditional Association of Shotokan Karate (TASK) under Chief Instructor Shihan Van Weenen. The purpose of the club is to teach Traditional Shotokan Karate as well as unarmed combat and self defence.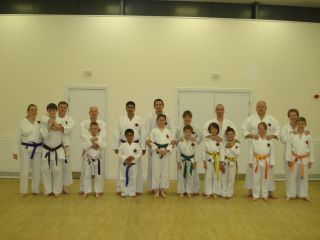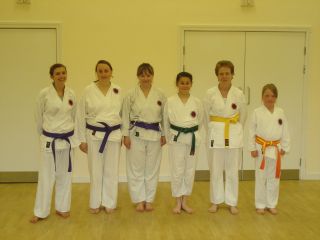 Parents train with their children Tickford Ladies
Tickford Karate Club is a family friendly karate club which caters for all ages from 6 years to 106 years (anyone over 106 can train for free !!!) We actively encourage parents to train alongside their children and a good deal of our adult members started after their children. Karate is extremely good for exercising both mind and body and has been shown to improve childrens concentration and school performance.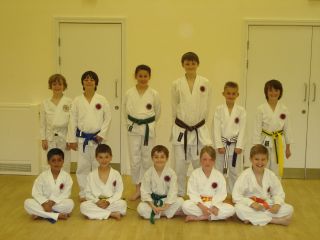 Some of our Junior Members
Tickford prides itself on putting safety first, all our instructors are fully insured and CRB checked and we have recently invested in mats to allow the instructors to teach throws and most importantly how to fall correctly.
Lesson Times
Newport Pagnell: Fridays 7:45pm - 9:15pm
Newport Pagnell: Sundays 9:30am - 10-30am
Denton: Thursdays 7:00pm - 8pm
All lessons are at the Tickford Community Centre, which is off Tickford Street opposite the car park for Middleton Swimming Pool. All grades are welcome especially beginners and we are always pleased to see adults turning up to train with their youngsters. It should also be noted that a good proportion of our class are females so if anyone tells you, Karate and self defence are just for males think again! Remember the first lesson is always free so you have nothing to lose
A new beginners karate club has opened at Denton Village Hall, Vicarage Lane, Denton, Northants. Open to both beginners and experienced karateka.
For any enquiries please contact us at androotaylor@aol.com or just turn up to one of the training sessions.